TomFool
biography
Born and raised in California, moved to Germany many moons ago. I love music. Started playing guitar when I was 14 and quit when I was 17. Started again when I was 32 and have been going at it ever since. I just started writing and singing my own stuff and it's still pretty basic music, but getting it right is one of the best feelings ever.
0

January 21st, 2007 + 5:01 PM
·

TomFool
I abandoned the piano accompaniment work and am writing cello piece to go along with it instead. Piano was too choppy and just as lost as the guitar. It needs a basic, deep, woody sound to back it all up. I've never recorder a cello before, but I'll experiment until I get a good sound.
I'll probably re-post sometime in 2009 when I'm done... Just kidding, maybe in Feb depending on how it all sounds when it's mixed. I am also considering a harmonica solo - I think it could be cool but we'll see.
0

January 15th, 2007 + 10:01 AM
·

TomFool
well, just posted City of Angels. Not too much feedback on this one. I think I rushed it too much. It's always that way - I get the off weekend completely to myself and try and cram 2 weeks worth of musical stimulation into 2 days - then record it all.

I guess one needs to either be filthy rich and have all the time in the world or poor as dirt and not care about anything but music. The middle ground seems ineffective at best.

I guess that's why I call it a hobby.
5

August 5th, 2012 + 9:08 AM
·

TomFool
This is an (almost) kitchig ballad I wrote a long time ago and just now got around to recording. We added some digital bass stuff and a piano at the very last minute. Let me know what you think! Thanks.
8

July 29th, 2012 + 12:07 PM
·

TomFool
Cool little ballad. 2 Guitars and vocals. Please comment! Thanks.
7

July 29th, 2012 + 10:07 AM
·

TomFool
Here's a number we did with a drummer buddy of ours. Comments Welcome!
5

March 18th, 2012 + 9:03 AM
·

TomFool
Here's a little song we just recorded. It's been years since I posted here. Any comments or critique is certainly welcome.
Thanks
3

October 6th, 2010 + 5:10 PM
·

TomFool
did this as a multitrack recording. Me and my music partner. Enjoy.
Alias:
TomFool

Status: Offline
Threads:
12
Posts:
65
Songs:
10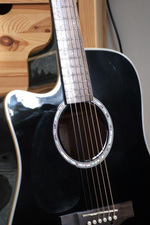 Joined: November 13th, 2006
Last login: July 29th, 2020
My Messengers
| | |
| --- | --- |
| AIM: | n/a |
| ICQ: | n/a |
| Skype: | n/a |